---- 2015
---- 2014
---- 2013
---- 2012
---- 2011
---- 2010
---- 2009
---- 2008
---- 2007
---- 2006
---- 2005
---- 2004
---- 2003
---- 2002
---- 2001
Texts & Drawings



Note: Dimensions are approximate.


Twin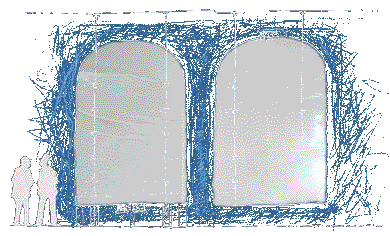 Description:
Two identical inflatable structures with circular wooden floors inflate and deflate. The cables on the side of both bubbles are guides that control vertical inflation and deflation.

The first cylindrical structure rests on short wooden legs and allows visitors inside through a tight vertical door. The fan is attached under the double-sided wooden floor. The top layer of the floor is pierced with holes that let the air in to inflate the structure. People walking inside can control the air input by covering the holes with their feet. This action slowly deflates the bubble.

The second bubble hangs from the ceiling. The fan is located on the top of the structure. The power of the fan is on a timer that alternatively turns the air on and off every 5 minutes.




Specs:
Surface (square feet): 400
Overall dimensions (feet): 16 x 24 x 20
Material: 4 mil white opaque plastic, plywood, 2x4s, cable
Assembly (estimated): 12 hours, 2 persons
Installation (estimated): 12 hours, 2 person